I got the iPad 2 on its release date (March 25, 2011) at the Apple Store Alstertal Hamburg. After about 6 hours waiting in line, I opted for a 32GB model with 3G. The iPad 2 is a beautiful piece of technology and finally implements what I was waiting for: Video Mirroring. With a 30-pin to HDMI adapter one can see everything on the iPad and on any HDMI compatible TV or beamer. This is a killer feature for me. I am sure this will open a whole new field of application for the iPad. It seems to be a trivial feature, but in fact I think it is a vital step for the iPad towards becoming a major productivity tool.
Your favorite app on your HDTV. Now one iPad gets the attention of many on a big (and bigger) screen. And it's a truly impressive performance.

Source: "Share what's on your iPad with a bigger screen" – Apple
What also seems promising, is the amazing GPU performance. Anandtech tested the new iPad 2 in detail and determined the iPad to offer over 3-5x the speed in GPU benchmarks. So, if you don't already have an iPad, this is the version you have been waiting for. Take a look: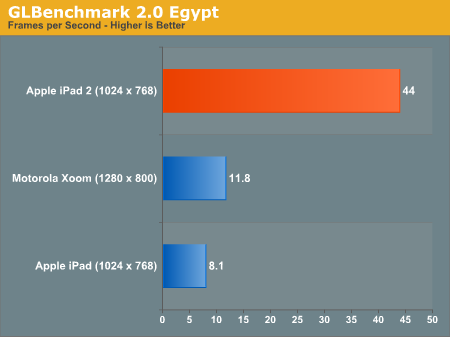 (Source: "Apple iPad 2 GPU Performance Explored" anandtech.com)
Related
Copyright © 2022 Moritz Philip Recke. All Rights Reserved.